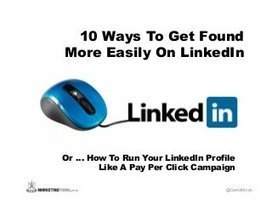 Have you ever thought of running your LinkedIn profile like a pay-per-click campaign? Many business professionals, sales executives, small & large businesses and thought leaders stake their claim on the LinkedIn platform in hope to strike riches … in other words, they hope to be found for leads, business, sales opportunities, speaking engagements and other connection opportunities.
I want to provide you a quick read to help you make your LinkedIn profile work harder. I've provided 10 ways to make it easier for others to find you on LinkedIn.
I've identified an easy way that you can activate your LinkedIn profile strategy as if it is your personal pay per click campaign.
This document is a great social selling, business creating, or connection action plan to help to put you on the pull marketing map for your individual social brand!
See on www.slideshare.net